Are you recently retired or nearing retirement and on the lookout for money saving hacks for seniors? You are in the right place!
Being in your golden years is a blessing and we all want to enjoy that season in our lives, that is why we plan for it, save for it, and work hard for it. Before you retire you must have planned for your retirement fund and worked your best to reach your financial goals to have a comfortable and sustainable living during your retirement years. You must have done all types of money saving tricks and as you grow in age and in wisdom, you know that senior money hacks are as important as when you were younger.
SAving for your retirement fund took lots of hard work, overtime shifts, and years of living frugally in order to save up and live the best life you could have when you retire. Everybody gets it, everybody wants to live the same lifestyle or even more even after they have left their employment to retire.
We believe that you should spend your golden years unwind, relax, and live the best life ever. Unfortunately, money is always a challenge whether you are in your 20s or your 50s. This could lead to lots of stress because retirement means little to no income and a continuous rise in the cost of living.
If you have planned your retirement carefully then you should have your social security fund, insurance fund, and other investments paying off when you retire. But even though you have those backup plans, there could be unexpected circumstances that could occur along the way and you will be in need of extra cash.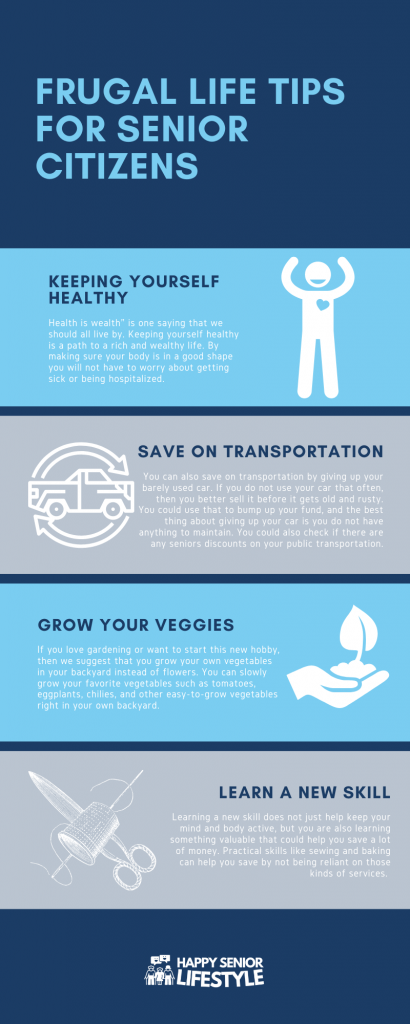 As long as your retirement fund and income are set up like a well-oiled machine, then you do not have anything to worry about. The best thing to do is to always be prepared and make sure you are not burning through your retirement fund like a wildfire.
Having your retirement fund budgeted is still part of your financial discipline. Just because you have a million dollars stashed on your account does not mean you get to spend it all the moment you retire. That fund should last for at least 25 years if not more because it is definitely difficult to get a new job in that season of your life.
Living frugally is the best way to make sure that your savings would last your retirement season and you could also enjoy it as part of your extra cash on hand.
Here are some tips on how to live a frugal life for seniors:
Keeping yourself healthy
"Health is wealth" is one saying that we should all live by. Keeping yourself healthy is a path to a rich and wealthy life. By making sure your body is in a good shape you will not have to worry about getting sick or being hospitalized. Illness is one of the major causes of rising debt and financial problems. Medication and hospitalization can easily burn through your hard-earned savings.
Eating Simple Meals
Simple meals meaning you focus on what is important, and that is eating healthy and focusing on a few good ingredients. Being a senior citizen, your body reacts differently to food, and you can maximize your body's absorption of nutrients by making sure that you are introducing simple yet healthy food each meal. This could cut costs on your grocery list as well as prevent you from wasting food.
Maximize your seniors discount and perks
Aging has its perks and you should maximize the discounts and freebies, available for seniors. Always check with the stores you shop at, or restaurants you dine with because chances are there are hidden discounts you could avail of because of your age. You do not have to be shy in asking for discounts because everybody loves getting some perks when they shop, and most of all you will be saving a lot more by doing this.
Save on transportation
You can also save on transportation by giving up your barely used car. If you do not use your car that often, then you better sell it before it gets old and rusty. You could use that to bump up your fund, and the best thing about giving up your car is you do not have anything to maintain. You could also check if there are any seniors discounts on your public transportation. Some offer a percentage discount, or free rides each month.
If you are in a senior-friendly neighborhood then walking is a great exercise that could save you on transportation fees.
Go Thrift Shopping
Looking for some home accessories or clothes? Do not be afraid to try shopping at thrift shops. There are plenty of hidden gems that do not cost an arm and a leg. The best thing about thrift shopping is you could get things that are in tip-top shape for half the price!
Go Bulk Shopping
Shopping for necessities such as groceries, toiletries, supplements, etc, is best bought in bulk. Check your nearest warehouse retailer for bulk shopping discounts.
Plan your meals
Planning your meals could save you a lot of money. Instead of always going out to eat, practice planning, and prepping your meals ahead of time, it is convenient and cheap.
From your bulk groceries, you could plan ahead and prepare your meals by using the same ingredient for multiple recipes. Cook them in one go and stock them on the fridge for easy reheating. This will also save you time, effort, and gas! The best thing about this is aside from saving money, you also get to eat healthy, homecooked meals.
Grow your veggies
If you love gardening or want to start this new hobby, then we suggest that you grow your own vegetables in your backyard instead of flowers. You can slowly grow your favorite vegetables such as tomatoes, eggplants, chilies, and other easy-to-grow vegetables right in your own backyard. It is a therapeutic and very rewarding hobby as you can see how your vegetables grow and have your own farm to plate meals!
This is a very good way to save money and making sure you are always eating fresh and clean vegetables.
Live small
During your retirement years, you might just be living with your spouse because your children have their own families and homes. Consider downsizing and living small. Check if you need the same amount of space as before. If you are living in a two-story home, then maybe it is time to move into a bungalow so you would be cozier with your spouse and makes moving around very easy. The best thing about downsizing your living space is that there is less space to clean up!
Scout for deals
Spend some of your free time scouting for deals, whether in magazines or online, there are plenty of deals waiting to be uncovered. If you want to go shopping for a certain item, always make sure you are getting it for the best price by checking other stores selling the same item, or if there is a certain occasion where it will be put on sale. For example, check if the store is offering a price match where you could ask them to match a lower price you saw somewhere else. Another example is to wait for the Black Friday sale, or shopping for chocolates after Halloween because they are more likely on sale.
Sell your stuff
If you decided to downsize your living space chances are there are plenty of home appliances and accessories lying around the house unused. Make the most of your extra stuff by selling them on a garage sale or listing them online. You could use the extra bucks and extra space when you sell those.
Move to a new neighborhood
If you are still living in a crowded city neighborhood, you might want to consider moving a bit to the countryside where it is a bit more quiet and peaceful. The best thing about moving to a new neighborhood is starting fresh. You can choose a new neighborhood with a senior-friendly community and amenities such as peaceful and safe walkways, easy access to necessities without the need for transportation, etc.
Avail everything FREE!
Chances are you haven't checked your favorite cinema for free tickets for seniors. You might not be aware that there are plenty of entertainment and leisure options for seniors that are free! Check with your local cinema, leisure parks, museums, libraries, beaches, and national parks. There are plenty of ways to entertain without breaking the bank.
Learn a new skill
Learning a new skill does not just help keep your mind and body active, but you are also learning something valuable that could help you save a lot of money. Practical skills like sewing and baking can help you save by not being reliant on those kinds of services. Sewing can help you make and repair your own clothes lessening the need to go to a seamstress or buy a new set of clothes. Baking on the other hand can help you bake your own bread and other delicacies and helps you be in control of what ingredients are going inside your food.