Life insurance is something that is best bought when you are young, preferably within the range of your 20's. This is because insurance policies can be expensive and difficult to purchase as you age.
While this is true that seniors' life insurance tends to get more pricey, it is never too late to get an insurance policy if you do not have one yet. As soon as you become aware of the benefits and the necessity of having an insurance policy then that is the time to get one regardless of your age. If you are wondering what is the best life insurance for seniors over 70 do not worry, there are still options to get an insurance policy as there are insurance policies made for seniors.
Role of insurance policy
Insurance policies are not just for the young people who can afford it, or for seniors who really need it. Insurance policies play a big and important role in securing a person in every stage of their life.
Young adults in this stage of their lives might be single, getting married, or having kids. This means that young adults typically have people depending on them for financial support or assistance such as their parents, siblings, or their own children. In the event that something untoward happens to the breadwinner of the family, the source of income is also cut off and this could be disastrous for the family. That is why insurance policies play a big role in giving peace of mind to the individual and their family that there is something that can cover their expenses when unfortunate circumstances occur.
As you grow older, life insurance is viewed entirely in a different way. Insurance policies for seniors can be seen as security for illness by covering for medical and hospital bills because they are more likely to be hospitalized due to their age. Funeral expenses are also one reason why seniors want to get insurance policies so that the family members who will be left will not be burdened by their passing. Some insurance policies also provide a cash benefit to those family members who are left by the individual who signed up for an insurance policy.
Type of insurance policies for seniors
Permanent life insurance is the type of insurance that never expires as long as the premiums are being paid. This is the greatest option for seniors as it covers the individual as long as they are able to pay their premiums no matter what age they reach.
To get the best life insurance for seniors we present you the top 10 insurance policy providers that give the best benefits for their price, customer service, as well as the limitations these policies might have.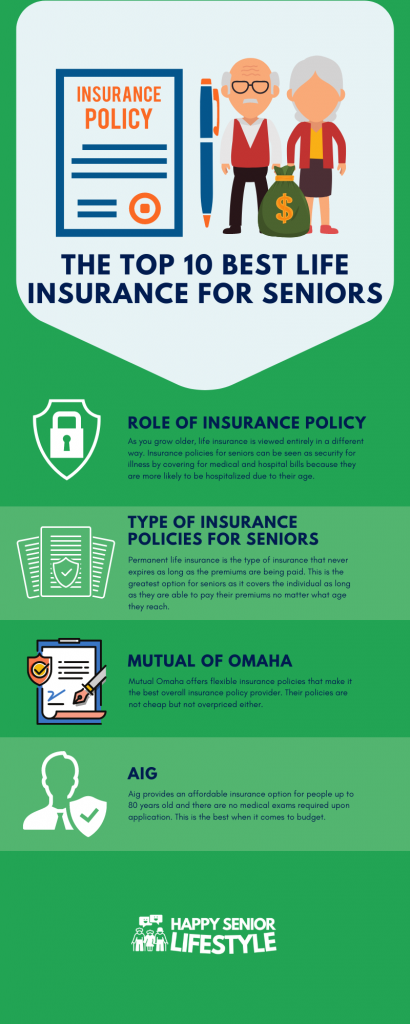 Mutual of Omaha
Overview:
Advantages
Proven customer service excellence
Good pricing
Plenty of policy choices
Age 85 can still get policies
Disadvantages
Some policies require medical examination upon application
Policies must be bought from an agent
Limited choices on insurance riders
Mutual Omaha offers flexible insurance policies that make it the best overall insurance policy provider. Their policies are not cheap but not overpriced either. For the price range, it offers the best customer service which is proven in their reviews. One of the best things about Omaha is they are still entertaining clients up to 85 years old which means it is never too late to get an insurance policy!
AIG
Overview:
Advantages
Insurance policies range from $5,000 to $25,000
Age 80 can avail policies
There is no additional cost for benefits for Chronic and terminal illness accelerated death
Disadvantages
For the first two years, you can only avail of limited benefits
Living benefits are only up to 50% of the amount of death benefit
There are some negative customer reviews
Aig provides an affordable insurance option for people up to 80 years old and there are no medical exams required upon application. This is the best when it comes to budget.
Banner
Advantages:
Very affordable price range
Less negative customer reviews
Disadvantages
Individuals have to be 75 or younger to apply
Policy options are limited
Banner specializes in Term life insurance which generally gets more expensive as you age. Banner provides a very affordable option for seniors up to age 75, although with limited provisions.
MassMutual
Advantages:
One of a kind convertible policy
Helpful online tools
Suited for healthier seniors
Disadvantages:
Seniors are required to take medical examinations
Physical application is required for 65 years old or older
Seniors have no living benefit
Whole life policies from MassMutual provide higher limits than traditional whole life insurance for seniors.
Gerber
Advantages:
Fixed premiums
Automatic payments can help you save up to 10%
When the child reaches age 18 the value doubles up
Disadvantages:
The death benefit is limited to $300,000
Compared to other investment options it produces lower returns
Average customer reviews
This is best for grandchildren of seniors as it costs very low per day and has good benefits for premature death. The best thing is when the child turns 17 they have the option to cash out double the value of the investment.
Transamerica
Advantages:
There are policies available for up to age 85
Wide range of policy types
Older seniors can avail lower premiums
Disadvantages:
The website does not offer comprehensive tools
Can only be availed through an agent
Below-average customer review
Term insurance at Transamerica is offered up to 80 years old and final expense policies up to 85 years old.
Prudential
Advantages:
100% Living benefit
Plenty of policy choices
Good pricing
Disadvantages:
Limited living benefits for different states
Whole life insurance is not offered
Plenty of negative reviews
Prudential provides 100% living benefit to the insured to receive up to in case of serious illness.
Haven Life Insurance Agency
Advantages:
MassMutual issues the policies
Insurance policy prices are from $100,000 to $3 million
Available in all 50 states and D.C.
Disadvantages:
Ages 65 above cannot avail of term life coverage
Cannot be availed by those enlisting in the military
Business use of policies are not allowed
Haven Life has a quick online quote tool where you can find out how much are the insurance policies depending on your personal information provided.
Principal Life Insurance
Advantages:
Term policies up to $1 million
Different term options
Term coverage for up to age 80
Policies can be renewed up to age 95
Permanent life insurance has four options
Available in all 50 states
Disadvantages:
You can only purchase a policy through an agent
No low coverage options
Principal life insurance policy is a pricey insurance policy provider that is a great choice for funding a family trust, or for an endowment.
Fidelity Life
Advantages:
Offers term life and whole life policies
Specially designed policies for 50 years old and above
Disadvantages:
Term life policies are priced at $1 million
Accidental death is only applicable up to 59
Some policies only provide partial coverage
Sure approval for ages 50 to 85 years looking for $25,000 below.