The article will help you prepare for the future and help you make a smart investment.
Not sure where to start? We provide some practical tips on how to overcome your financial fears and figure out what steps to do to prepare for old age. With the right knowledge, anyone can create a solid retirement plan for themselves or their family members. Best of all, it's not about waiting until it's too late — these senior money hacks are based on generational analysis so they're helpful now!
This is an informative and factual blog post with advice on how to prepare for old age. Call it seniors money hacks as it provides basic advice about many different topics that can help with creating a retirement plan, such as investing in stocks, planning an emergency fund, etc.
Mastering Retirement Planning
By planning for retirement early on, it gives one the opportunity to make financial and physical preparations that will help them live a comfortable life when they are older. If you are like most people, you probably don't have enough money for life insurance for elders. Most Americans are living beyond their means during this period of time and this tends to be because many people are young, between ages 18-35. This is the prime time to start preparing for retirement as there is room for error. It also happens to be the least amount of time where most Americans have saved any amount of money.
TIP: It's also important to set up a budget and stick to it.
Here are some things you can do to avoid being unprepared when you retire:
Create a plan for retirement early on
The earlier you start, the more time you have to save and adjust your financial planning. Make monthly contributions into your retirement account, even if it's small amounts of money. It will add up over time. Contribute as much as your employer will match in order to receive the full amount of money for retirement. Invest long term bonds or stocks since they typically generate a higher return rate than short terms bonds or savings accounts.
Choose an investment method for your retirement funds
Many people invest in mutual funds that are designed to match their risk tolerance, age, and investment style. There are different types of mutual funds including growth, income, balanced and international. For people who are under 30 years old, a balanced fund will be the best option since it is a bit less risky and can give you a more stable return over time.
TIP: Investors should gravitate towards funds that have an above-average rate of return since it can be better to have some extra money saved up for emergencies than not enough money for retirement at all.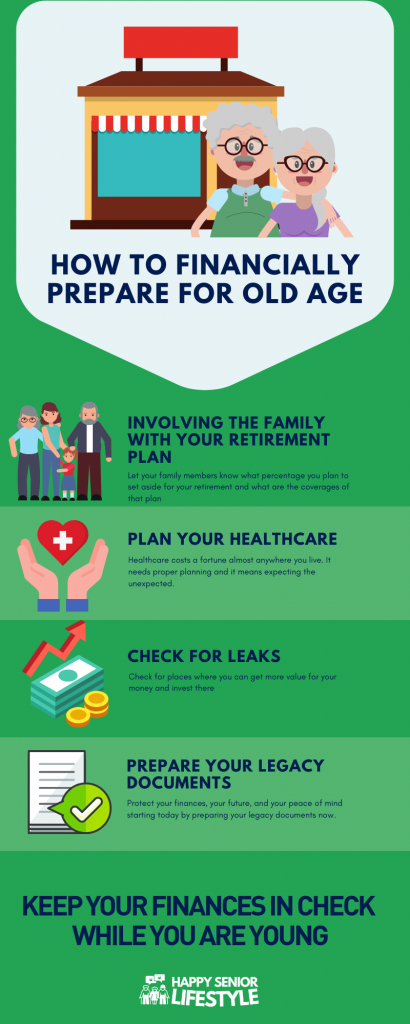 Involving the family with your retirement plan
Communication is key between family members about any new changes or decisions that could possibly affect them financially or emotionally. Family members are the ones affected when it comes to future financial status and especially problems that you may eventually face. Letting them know what you envision for your future retirement can help set up a healthy relationship between money and family.
If you happen to amass a fortune today, let your family members know what percentage you plan to set aside for your retirement and what are the coverages of that plan. Setting their expectations early on will help them prepare for their future as well.
Also, knowing that your fortune today might not be there anymore in the future helps fix your mind to a state of saving.
If the family is having a hard time making ends meet at this point, then it is better to sit down and plan ahead. Regardless if you are the breadwinner of the family or not, it is important to be involved in the planning of your finances to be ready for whatever happens.
Plan your healthcare
Pensioners should plan ahead even for the cost of healthcare. Health is one of the primary reasons why a family or an individual is deep on debt even before they age. Healthcare costs a fortune almost anywhere you live. It needs proper planning and it means expecting the unexpected.
Try to take care of your health as soon as you plan for your retirement and that means trying to live a healthy lifestyle. Just because you are young does not mean you won't get into any health problems.
Check for leaks
As early as now, check your finances for leaks. That means checking where you haven't checked before, and determine what is causing you to lose your hard-earned money. Saving a few additional bucks certainly won't hurt. Check for places where you can get more value for your money and invest there instead. Lifestyle leaks are another area you might want to look at and search for a more cost-friendly option.
Prepare your legacy documents
There is no other day but today. Protect your finances, your future, and your peace of mind starting today by preparing your legacy documents now. That means preparing your medical directives, your will, and other documents you may need when you are incapacitated or passed away.
These documents will help you have peace of mind that you are in good hands when you are not able to make decisions yourself in the future. This will also help family members be prepared and fully understand your wishes when the time comes.
Conclusion
Don't let fear of the future overcome you in making good financial decisions today. Now is the best time to prepare and equip yourself and your family for a better future. As they say, prevention is better than cure, that is why securing your finances now will help you face the challenges of old age at ease.
Once you follow the steps above and keep your finances in check while you are young, then you will be able to enjoy your retirement to the fullest, without any worry of health or financial trouble that could affect your lifestyle, your family, and your loved ones.